"I could watch your workouts all day! Feel like I'm working out with a friend. Love your energy! Thank you for all the content 🙏🏼🤍"
"I was drawn to you because seem like the most non-toxic/fat phobic pilates instructor. I hope to grow with you and learn from you!! "
"Can't describe how much you lift me up with your positive energy and amazing workouts. Thank you so much 🤗"
"You are so encouraging and sweet, thank you! And those booty workouts, haha, I felt those. Jeez, who knew drawing little circles would hurt so good."
"The honesty in this entire video was just so encouraging. I'm working on loving myself and listening to my body and listening to your podcast and seeing your videos just helps me stay ln track sm"
"Nice work out for the body and mind. Thanks for all the beautiful messages of positivity!"
"This is amazing. Truly what I needed and turned my day around!"
"I loved it . You somehow managed get us working out and pushing ourselves and being zen at the same time . Thank you for this session"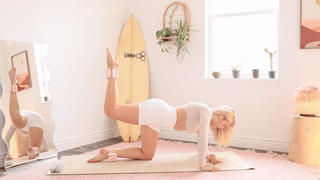 Cycle Sync Your Workouts
Access workouts designed for each unique phase of your cycle: 1. Menstrual, 2. Follicular, 3. Ovulatory, and 4. Luteal.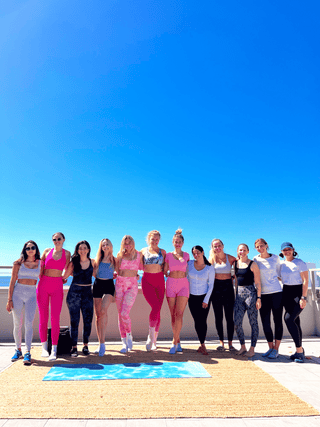 Stay Consistent
Join our welcoming and supportive community for monthly Pilates programs. All levels welcome! These programs are designed to target a different mind/body focus each month to help you stay consistent and motivated!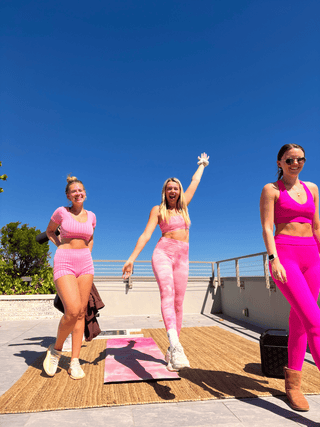 Boost Your Confidence
Combine feel-good affirmations with Pilates for an empowering Pilates experience. Every Pilates flow is designed to leave you feeling restored, connected, and confident inside & out!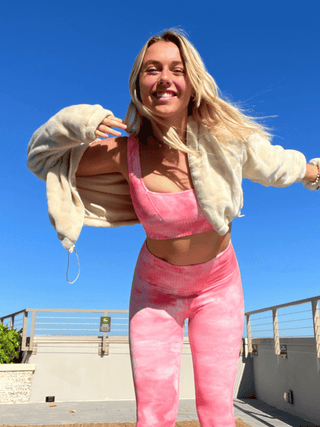 Welcome Sweaty Queen!
As a former competitive figure skater who struggled with body image and chronic injuries, I fell in love with low-impact "flow" type workouts, like Pilates and barre. After spending many years feeling bloated, low energy and discouraged, I realized the power of listening to how your body feels before/during/after your workout. Not only do you see physical results through doing the right exercises for you, but you also get mental results! Combining my favorite transformative mind and body practices, I've created my own technique of movement: an empowering blend of motivational affirmations, Pilates, and barre style exercises.
xx Cal
Certified Pilates and Barre Instructor Certified Holistic Health Coach